– Your G-DRG expert platform –
 Information creates transparency
… from patient to revenue
In Germany, the dual financing principle is used to ensure efficient hospitals in accordance with the German Hospital Act. One of these two pillars is the G-DRG system. According to this system, remuneration is based on performance at flat rates. With a few exceptions, allocation to a flat rate is linked to the diagnosis, i.e., the main reason for the hospitalization. Other parameters used to identify the flat rate are patient-specific characteristics, such as age, gender, weight in the case of newborns, or the duration of ventilation. In addition to the measures performed, which are recorded via operation and procedure codes, the documentation of secondary diagnoses are important allocation criteria. By entering this information, the Grouper software arrives at the DRG flat rate per case and thus the revenue for the hospital.
Founded in August 2015, the Reimbursement Institute specialises in the reimbursement of medical procedures in the G-DRG system. In order to better understand this complex and constantly changing system, we have compiled the most comprehensive glossary on the subject. In addition to easy-to-understand text, extensive graphics were created which also reflect the read word in a visual way. We also highlight topics such as fixed cost degression discounts, material cost correction and early benefit assessment for medical devices with high risk classes in our blog entries. We are always up-to-date in communicating relevant content.
(The glossary as well as the blog articles are only available on our german pages) 
The online platform reimbursement.INFO was developed as a further instrument. It connects all relevant information to the G-DRG system in an interactive way. Rules and regulations and their relationships to each other now for the first time allow quick conclusions to be drawn about the system of lump-sum reimbursement. As a rule, the flat-rate reimbursement of inpatient hospital services is provided via G-DRGs, additional charges and, in the case of innovative procedures, via NUB charges. All these reimbursement methods can be called up free of charge after registration. In addition to this reimbursement-related presentation, the platform allows extensive analyses of the hospital market. These range from the market-, trend and potential analysis to the strategic planning to the procedural and indication-related reimbursement analysis.
We, the team of the Reimbursement Institute, are constantly expanding our content in order to provide you with a quick and professional overview! We hope you enjoy exploring the G-DRG world.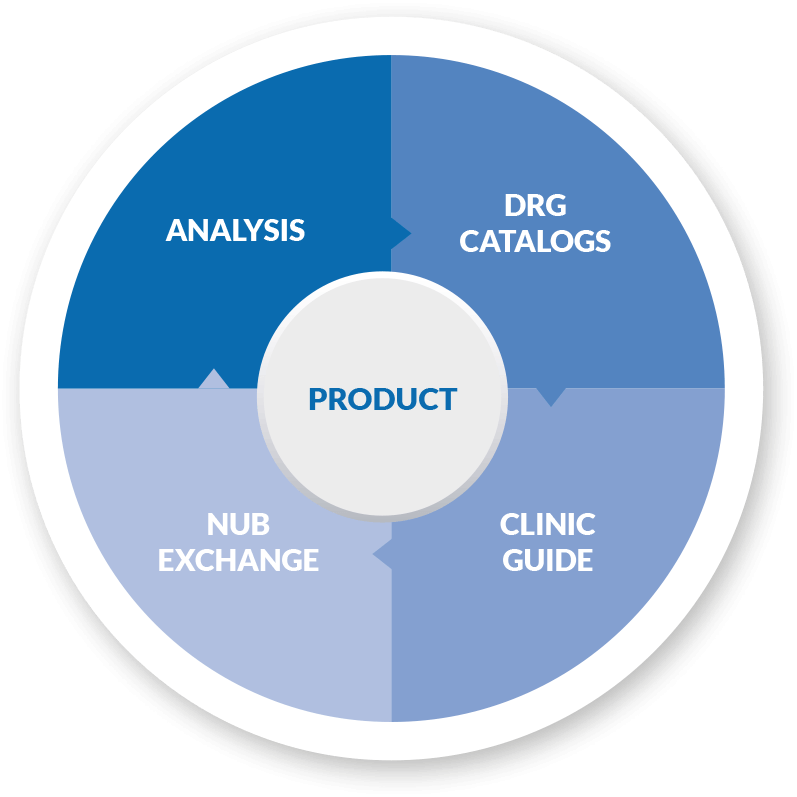 Professional analyses of hospital data since 2006 until today
If you are interested, we will be happy to introduce you to the platform based on your personal needs!