Market Access & Reimbursement for Inpatient Medical Devices in Germany
– Reimbursement, Pricing, Analyses & Market Research –
Reimbursement Institute – G-DRG Expert Platform
Founded in August 2015, the Reimbursement Institute specialises in the reimbursement of medical procedures in the G-DRG system. Since then, we have supported all groups of people who deal with the flat-rate system on the basis of their daily work in hospitals, in the course of further training or from a sales-specific point of view. In order to better understand this complex and constantly changing system, we have compiled the most comprehensive glossary (only avaiable on the german pages) on the subject. In addition to easy-to-understand text, extensive graphics were created which also reflect the read word in a visual way. We also highlight topics such as fixed cost degression discounts, material cost correction and early benefit assessment for medical devices with high risk classes in our blog entries. We are always up-to-date in communicating relevant content.
The online platform reimbursement.INFO was developed as a further instrument. It connects all relevant information to the G-DRG system in an interactive way. Rules and regulations and their relationships to each other now for the first time allow quick conclusions to be drawn about the system of lump-sum reimbursement. As a rule, the flat-rate reimbursement of inpatient hospital services is provided via G-DRGs, additional charges and, in the case of innovative procedures, via NUB charges. All these reimbursement methods can be called up free of charge after registration. In addition to this reimbursement-related presentation, the platform allows extensive analyses of the hospital market. These range from the market and potential analysis to the planning of sales areas to the procedural and indication-related reimbursement analysis.
We, the team of the Reimbursement Institute, are constantly expanding our content in order to provide you with a quick and professional overview! We hope you enjoy exploring the G-DRG world.
Training / Workshops
We accompany you individual and competent from the idea till the successful market entry
Application Processes
We advice and support you for the following application procedures:NUB / §137h, OPS and DRG
Data Analysis
We create market analysis, trend, competition and coding analysis based on your product portfolio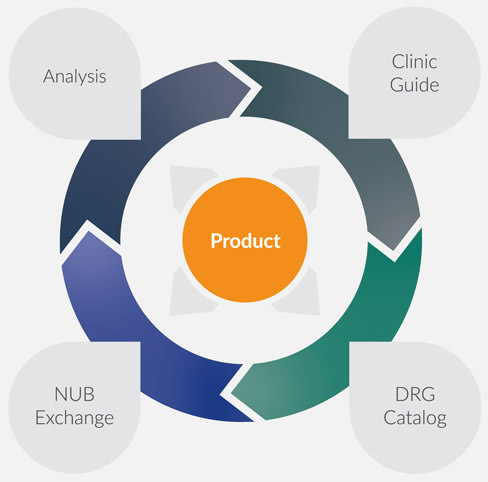 You want to know….
How big is your market potential?
How big is your share and the development?
How the reimbursement of your products will look like?
Our online platform answers this and more in a matter of seconds!
DRGs = Flat Rate
The flat rate means that a hospital receives a fixed income per treatment case. This revenue should at best cover all costs necessary for inpatient treatment. This includes staff costs, material costs and infrastructure costs. Only investment goods in general are not financed through the DRGs. The determination of a DRG is based on individual, patient-related data (ICD, OPS, age, respiratory time, etc.) by means of a certified assignment software (grouper). Each DRG has an individual relative weight, which when multiplied by the applicable basic case value, provides the revenue for the hospital. Each DRG has a lower and upper threshold duration of stay. An excess or a decrease in stay of this threshold results in an increase or decrease in the revenue received by the hospital.
Revenue Relevant = Reimbursement
The transformation of hospitals from pure service providers to commercial enterprises has long been completed. As a consequence, only a few therapeutic and diagnostic methods are used without reimbursement. In particular, this also affects innovative methods that are not or only partially used without additional NUB fees. In order to integrate a process (product) into the G-DRG system, an evaluation of the existing reimbursement situation as well as strategic planning, based on the individual process information, is necessary. Planning for the reimbursement process begins approximately 2 years before the approval of a medical device and is closely linked to the Market Access area.